The Health Rights Clinic is a medical legal partnership operated in collaboration with the UM Miller School of Medicine. Students participating in the Health Rights Clinic represent multiple clients in different legal matters related to health. Under the guidance of Director JoNel Newman and Associate Director Melissa Swain, clinic students spend the academic year representing low income patients of the Veteran's Administration, South Florida Aids Network, Jackson Hospital and other medical partners.
Law students function as the client's primary advocate and conduct client intakes/ interviews, conduct legal research, file legal pleadings and legal documents, develop case strategies and theories, and provide representation in administrative hearings and court. Representation is focused on the following priority areas:
Social Security/Public Benefits – Students provide legal services in Social Security and other public benefits cases. Students represent clients obtaining Medicaid and other insurance. Many students file appeals and/or appear in federal administrative court.
Advanced Directives – Students draft advance directives such as wills, living wills, health care surrogacy, pre-need guardianships and guardianships.
Immigration – Students represent health impaired clients in immigration related matters. Specifically, students file applications and regularly appear before the Department of Homeland Security on behalf of our clients seeking U.S. Citizenship or Legal Permanent Residency.
Veterans Benefits – Students supervised by faculty work with doctors, medical residents, social workers and attorneys to advocate for veteran's legal rights in light of medical scenarios. Read More.
National Affiliations, Awards & Recognition
Student Interns
Summer 2014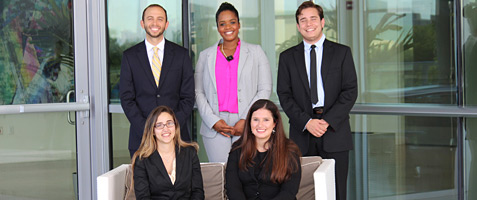 L to R back – Andres Zornosa, Vanessa Joseph, Edgard Cespedes 
L to R front – Ivana Alvarez, Brenda Corrales
Fall 2013 – Spring 2014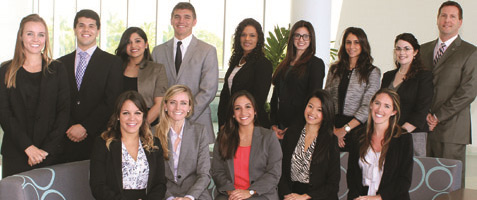 L to R back – Erin Hoover, Jason Hayet, Kanchi Doshi, William Mueller, Casaundra Johnson, Niki-Suzette Velazquez, Rebecca Greenfield, Alissa Gold, Noel Pace
L to R front – Lisandra Estevez, Bethany Bandstra, Alexis Mena, Krystle Diaz, Jenna Feldman
Summer 2013


L to R back – Albert Arguello (Administrative Assistant), Jamey Campellone, Julien Apollon, Justin Roberts, Jose Vazquez, Frank Whitaker, Roman Dodd
L to R front – Christopher Papa, Ellen Dumas, Marlene Palomo, Stephanie Vicotero, Estefania Barcia, Nicole Pecorella, Prospero Castellanos
Fall 2012-Spring 2013



L to R back – Shay Cohen, Jeremy Rones, Ryan Foley, David Werner, Eric Kegley, Kevin Yombor, Danny McDonnell, Alex Wagner, Brian Abergel
L to R front – Christina Margolles, Steven Vezos, Christopher Collins, Sarah Hoyt, Allison Brede, Mary Stevens, Samantha Mandel, Gabriela Rosell, Jaime Fromson, Rachel Walker, Robert Bernstein, Jeffrey Schnedar
Summer 2012



L to R back – Vanessa Alpizar (Paralegal), Rachel Walker, Dana Johnson, Dr. Regina Carney (Forensic Psychiatry Fellow), Alison Rioux, Julie Salzinger
L to R front – Christopher Papa, Brian Heit, Alexander Plumage, Corey Gray, Joseph Bendel, Ross Heft, Stephen Allen, Frantz Destin, Jr.
Fall 2011-Spring 2012


L to R back – Olivia Soofie, Alexa Diambois, Julia Garrett, Lindsay Winter, Ashley Dewelde, Meaghan Murphy, Catherine Hedglon, Tommie Deprima, Danielle DiFiore, Maria Martinez
L to R front – Alexis Christie, Kathryn Walker, Eric Boos, Katharine Dyott, Stephanie Stein, Julie Morgan, Ashley Jordan, Joel Feigenbaum, Alex Feal, Tricia Robinson, Philip Grosdidier
IN THE NEWS & MEDIA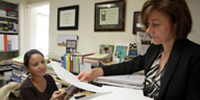 WLRN - Why Miami's Health Rights Clinic Offers Veterans Free Legal Services
See Full In the News Listing
View more photos of the clinic in action on Flickr